Oooh yeah. Everyone loves a little feel good, smell good!
This week, as I celebrate my blogoversary I am GIVING AWAY some of my favorite things. This giveaway includes some delicious Avon Naturals peach products to pamper yourself with, or it can make a really cool gift for someone else. (Right... except once you try it you won't WANNA give it away)
Everything in the photo is included. The bubble bath, the body wash, the body lotion and a yummy tub of peach body yogurt.
(Please don't try to eat it, it doesn't taste like yogurt!)
Yes, the blue canvas tote, with all it's pretty sparkles goes too!
To enter, simply leave a comment telling me your favorite way to pamper yourself. For a second entry, tell your readers about this giveaway (and let me know!) Or to make it easy on ya, just copy the code below and post it!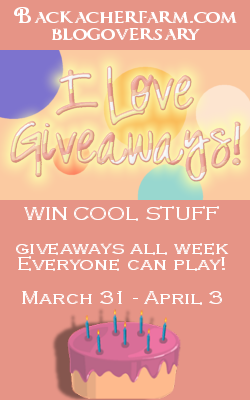 Winner will be drawn at random - contest ends at 9 a.m. tomorrow (that's NOON on the East Coast!) I will announce the winner when I post the next giveaway - it's Musically Inclined! Good luck and thanks for playing along!