We're celebrating a Blogoversary week here!
Today we're playing lots of music. My Word Filled Wednesday post today was ALL about music, and I think I'd like to share some music with YOU.
Here ya go!

It's a $15.00 iTunes Gift Card!

To be entered in this giveaway, please leave a comment telling me what you would do with this gift card if you won it. Me? I'd probably give it to one of my daughters who has an iPod, or I'd just use it to download music to my computer. I often listen with headphones, or I'd burn a CD of worship music to clean house by :)
To earn a second entry, post the button below onto your blog or sidebar. If you have already done that, you automatically get one!
Don't forget my hint from Monday for tomorrow's giveaway.
Random drawing ends at 9 a.m. tomorrow (again, that's NOON on the East Coast).
Here's a better size for your sidebar, if you'd rather not do a blog post!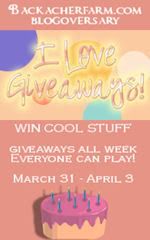 Good Luck, and thanks for playing along!